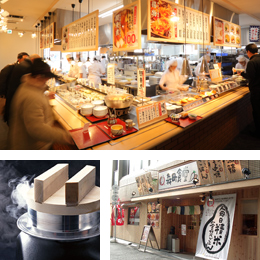 An easily accessible traditional Shokudo for everyone.
Three dishes are popular in Shokudo: Kamado-cooked rice milled in store, Miso made with select Miso and Japanese Dashi, and Tamagoyaki made from fresh eggs from an appointed farm. In addition, Shokudo offers simmered foods and grilled fish. All ingredients are selected carefully, and we strive to cook on-site to provide customers with freshly-made dishes. Maidoookini Shokudo is a place beloved by everyone.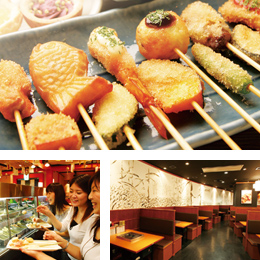 All-you-can-eat deep-fried skewered foods. Customers can choose their preferred ingredients from varied choices and deep-fry the food themselves.
Over 30 kinds of ingredients are available for customers to choose from. The cooking oil used is healthy. Customers can enjoy their deep-fried skewered foods with over seven kinds of dipping sauces. The restaurant also offers varied salad, desserts, Ochazuke and chocolate fondue – the fondue is the most popular dessert among children.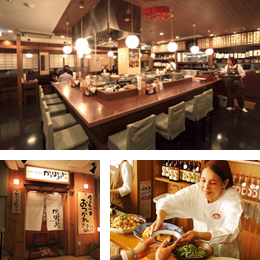 A beloved Izakaya that sparks nostalgia of mother's cooking
The staff here are mainly comprised of women, who add to the homey ambience of the Izakaya. Customers are able to enjoy simmered beef sinew and tofu, one of the famous homemade dishes, with alcohol while listening to nostalgic melody of the Showa era. Set lunch is available during lunch hours. Various kinds of side dishes are provided for the customers to choose from.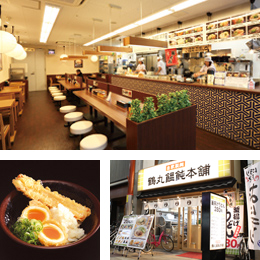 A highly regarded Kansai-style Udon noodle restaurant.
Kansai-style Udon noodle emphasizes a good balance between the flavours from the noodle, soup and toppings. Our soup is made with Kombu and dried bonito flakes, which complements the chewy noodles. Various side dishes are also available, including Tempura made with seasonal ingredients, deep-fried in healthy canola oil and a tasty chicken rice ball. Here, customers can enjoy well-balanced, freshly-made udon noodles.


Sachifukuya
A unique restaurant with Japanese and Western influences.
A kamado-cooked rice comes with seasonal vegetables or fish, side dishes of the day, and miso soup.

Ebinoya
The restaurant's tempura are made of seasonal ingredients and deep-fried immediately after ordering to ensure freshness. The dish comes with glossy Koshihikari rice and a Japanese clam soup. The special Tentsuyu is made of dried Bonito flakes and soy sauce. There is no better place for tempura than Ebinoya.

Katsuma
Katsuma offers select pork with natural sweetness, complemented by kamado-cooked rice and an original blend of dipping sauce. The restaurant aims to offer the best homemade dishes to customers.